Post by Falcon Boy on Jun 25, 2006 8:25:46 GMT -5
My first falconry centre I visited was Cotswold Falconry Centre. This is a medium sized centre of probably 100 birds or so, with a great countryside setting. You enter through a old stone building, and notice lots of falconry equipment for sale at a modest price.
Moving out into the yard, you will first notice on your left a row of eagles and a hawk, consistant of a Bald Eagle, a Golden Eagle, a Bataleur Eagle, a Chillian Blue Eagle, and a Ferrug. Immdediatly infront of you there is a Lanner, Saker, Male Euro Kestrel, Harlans Hawk, 2 HH's, and a Saker hybrid. Behind them, you will see a Swainsons hawk, Snowy Owl, GHO, Euro Barn owl, and a few others i can't recall off the top of my head. After the initial weathering, you can see breeding pairs of many sorts of birds, from Bataleur eagles to Scops owls.
Here are pics of some of the weathering birds, i have a ton more pics so PM me if you want them. Before anyone says anything about the jesses and why they are not attached to the swivel, they use a bullet jess system at the centre.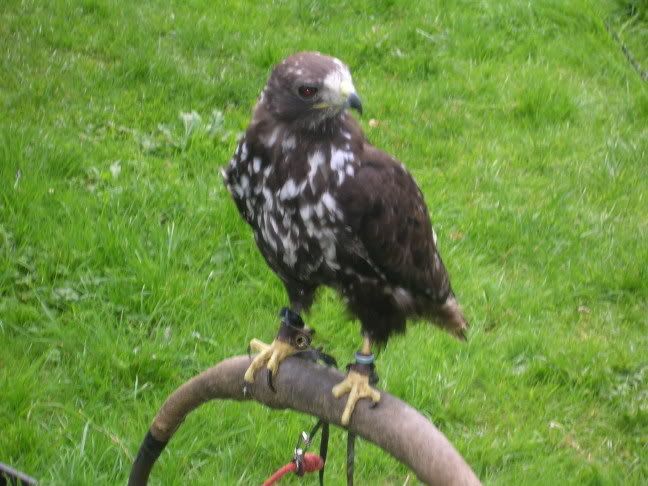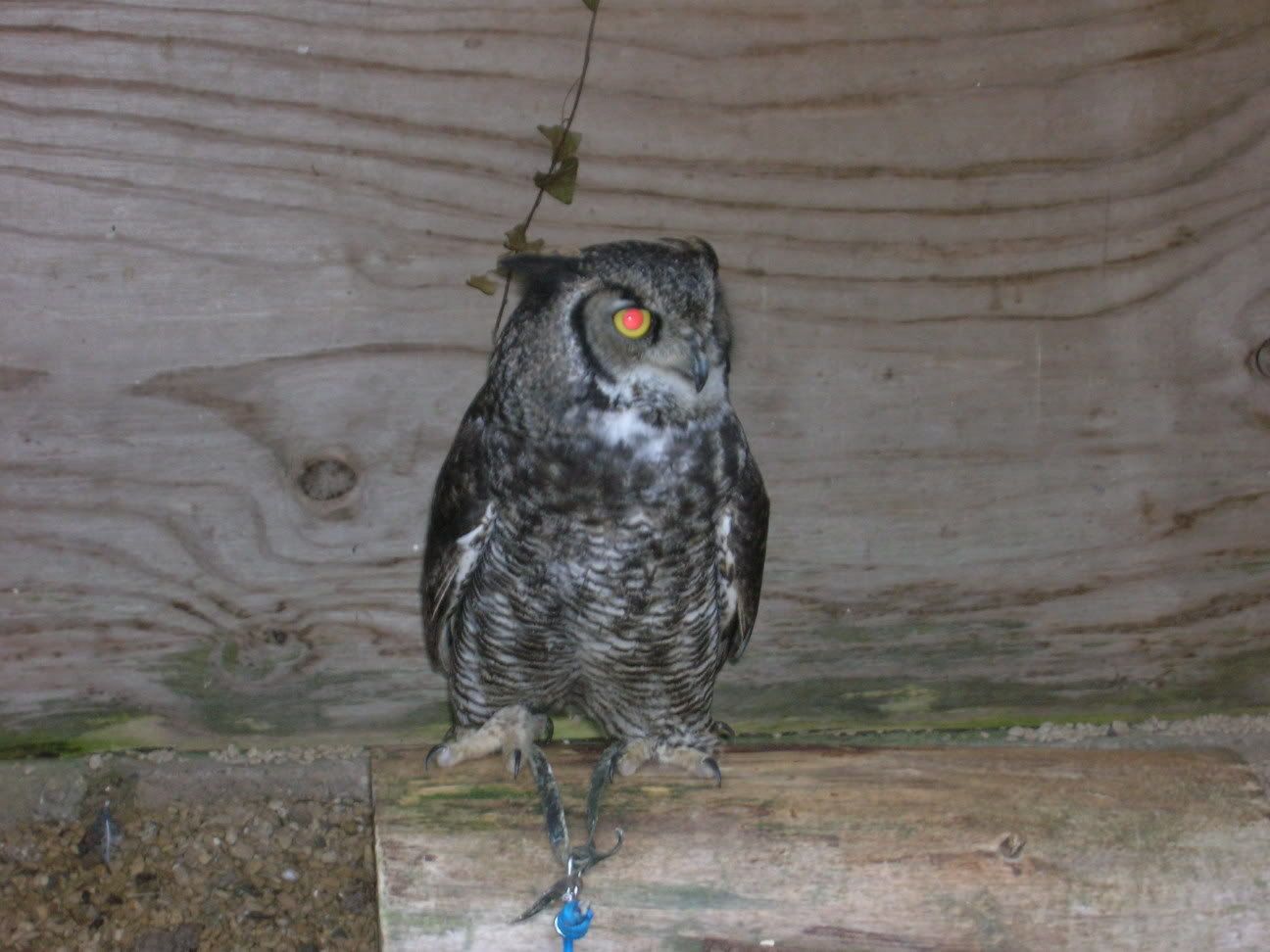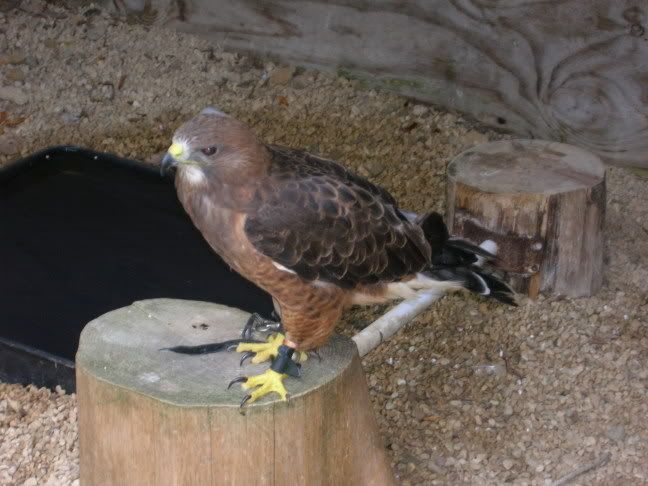 While there, a photographer from a local newspaper showed up. As some may recall, redtailnut [who works at the centre] mentoined that their yellow caracara's had a baby, which turns out to be the second time they have ever bred in captivity to their knowledge, the other time occuring in Belguim.
here is Jeff, the centre's owner with the baby caracara-
I was fortunate in to have met up with jfseaman, who volunteers at the centre. He had it set up so they knew i was coming, and i got to handle a few of the birds, a bald eagle, a golden eagle, a chillian blue eagle, and a ferrug. We flew the bald eagle from tree to fist, and we tried to get him to soar but the wind was not strong enough to allow him to soar very well. Here are some pictures of him. redtailnut can be seen in some of the pics.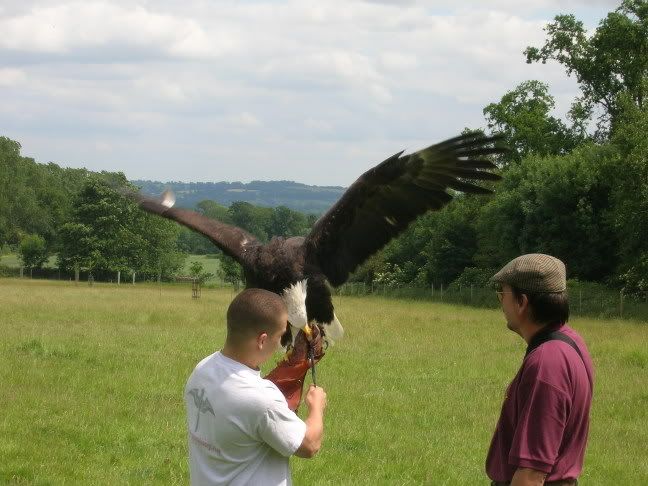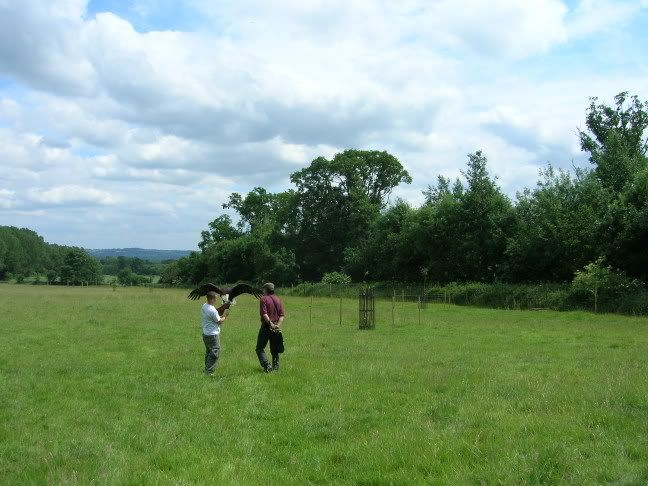 Here is a pic of me with the Chillian Blue Eagle-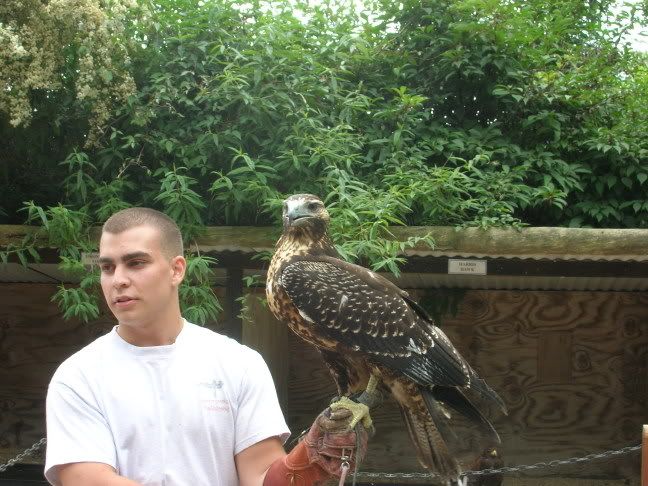 Here are some pics of Redtailnut with the Golden, just goes to show how tolerant an eagle can become just like any other bird of prey, they are not all mean face grabbing demons!
This pic needs a little explanation, as otherwise it looks odd. He was examining the birds feet to make sure they are nice and healthy, which they of course were, and also demonstrating to me how tolerant the birds can become when they have worked with the same handler for many years.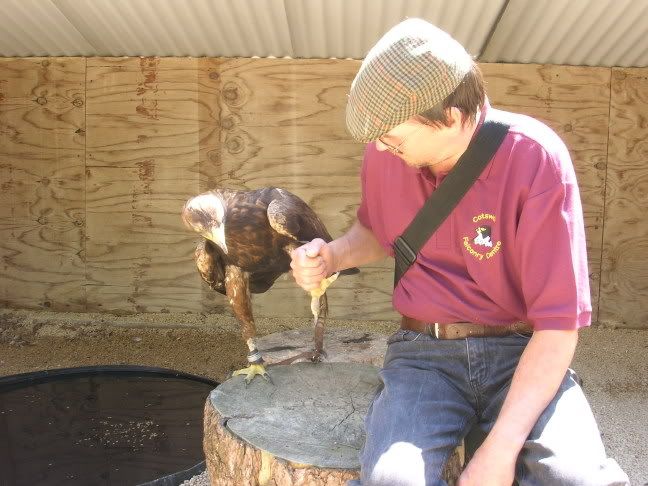 What i liked about the centre-
Smaller centre, focused on the birds and education rather than profit. The birds are flown daily, and it WAS NOT perch to fist like you would expect. The birds are encouraged to go soar and do what they would as if they were a falconry bird with the exception of killing something [although it happens]. The birds are all completely free, no creance or anything like that.
Since the centre is small it is more of a one on one atmosphere. If you have a question you won't have a hard time finding someone who can answer it for you.
All the birds were in perfect condition, whether they were moulting or not, they all were happy and healthy without broken feathers.The teathering systems were solid, and most importantly, the birds were FIT and in good physical condition. As i mentioned, the birds are flown daily.
What i didn't like-
Honestly i did not dislike anything about the centre, quite frankly it was many times better than the others i visited [reviews coming].
In conclution, if you can ever go to Cotswolds, GO. You will love every second of it, and learn a thing or two as well, i dont care how experianced you are you will pick up a new factoid while there, or atleast see a bird you've never seen before!
Special thanks goes out to jfseaman, who hauled me and my grandparents around to all the centres and told Cotswold i was coming. Special thanks also goes out to Redtailnut, the head falconer, and Jeff, the centres owner, for allowing me to handle the birds and explaining how the centre is run. Thanks y'all, i truly appreciate it and i will never forget the great times had at the centre!