Post by m4tt on Dec 5, 2006 21:30:01 GMT -5
Got home at around 2:50PM from school... walk into the room, let rascal out of his kennel, he looks fine, played a bit, took him outside, i was outside with him... less than 15 seconds for him to take a leak, and then go back inside to eat!
he ate, im in the bathroom as he eats, he finishes right as i get out of the bathroom. all is ok.
go upstairs, talk to some people on MSN, call mom, ask her where she is etc... hang up with mom... its 3:10PM
look at rascal: "Hey buddy! come here pu--what the f**k?!!!---Rascal Here!"
top of his snout, right behind his nose, swollen, and the left (his left) of his snout. swollen. i feel it, its firm, he doenst wince etc... odd... ok, moms busy, Lets go to uncles! (for those of you that dont know, i hold this uncle in the highest of thoughts, hes more of a dad to me then my dad is. hes had many many dogs and knows whats what) walk down two houses, uncle looks at him, "yeap, looks like a bruise matt, keep an eye on it just in case though... odd how its formed like that, it doesnt look like blood under the skin..." i was at his house at 3:18PM(ish). afterwards, got home at 4:30PM(ish). dorked around on computer, painted some warhammer minis, then at 5:15PM(ish), got him outa his kennel (kept him in there so i could rutinely check on him etc). now i had checked on him 15 mins before, and his face was ok, well now, left side of his face swollen, around his eye was, and multiple spots on his back and his stub of a tail where starting to swell. ok im worried now, call vet, they say it sounds like an allergic reaction. give him a benedryl, 25milligram dose. alrighty easy nuff...
now it turns all to hell...
run around the house screaming at no one "WHERE IS THE GOD DAMN BENEDRYL!?!?" go to my uncles he doesnt have any... go to neighbors (all 5 of them) NO-ONE HAS ANY FREAKING BENEDRYL. ok, drive time to rite-aid less than 5 minutes... run time to rite-aid, hell if i know, i didnt keep time!
i ran
well lets say ive never ran that fast, nor that far for a very very long time. got the benedryl, sprinted back home... (i live up a very very large hill... by the way...)
now, more hell... this has been a great day! (sarcasm, school was bad as well).
ok, theyve added PAPER to the back of the FOIL things the tablets are in... (pet peeve!!!)... i couldnt get it off, take knife... cut... quicker! put in a small slice of salami, give to dog... dog eats salami, regurgitates pill, spits out... *swear words*... ok throw that pill away... new pill... put in cheese, same thing happens *even more swear words*... ok im a bit angry, get 3rd pill, cut open the package... get pill... grab dog, open mouth, place on back of tounge, he swollows, i get him to drink water... ok hes taken the pill...
he is now in his kennel, sleeping... breathing ok... gonna check on swelling in a bit... gave him pill 15 mins ago...
pictures:
BEFORE pictures
now.. swelling after i gave him pill (2 mins after)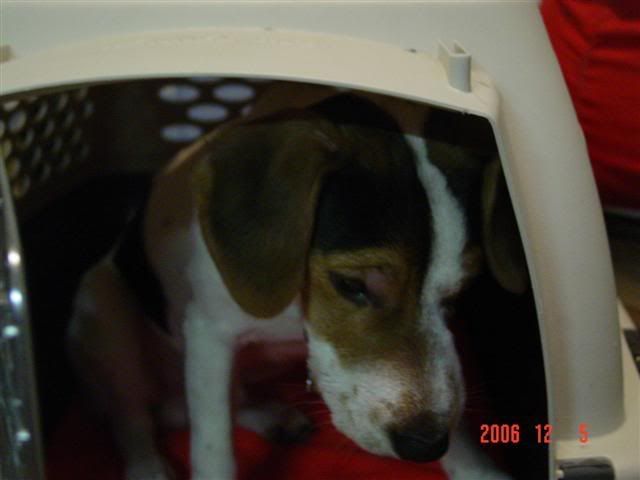 just checked on him... swellings down a bit... GOOD!